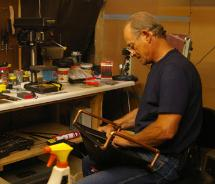 Haven't I seen you down by the river… or was it out in the desert? Perhaps it was up a gulch or snooping around an old stage coach station. I can tell who you are by the glint in your eyes when someone mentions precious metals, jewels, old coins and of course…
Treasures of any kind. The Gold Pan Prospector web site is for folks like you… Fossickers, that is. Now and in the future I wish to present products that I and others have personally made for your fossicking enjoyment and possible gain. All products are well made and tested under real conditions in the field to make sure they live up to Fossickers standards. These standards are set high and I mean to keep them that way. If for any reason you don't like my products just return them for a full refund. (Please see Return Policy page for criteria on returns). My products deliver what I say they will with no hype… you can count on that!
The services I offer are for groups, individuals and organizations who want to further their knowledge in fossicking or metal detecting. I also offer services in finding lost or hidden articles – including police crime sites. At this time my services are for the Washington State and surrounding areas, but will be offered for other areas in the future.
There's more to come at this site so drop by often and check it out.
The Fossicker:
Dennis Katz